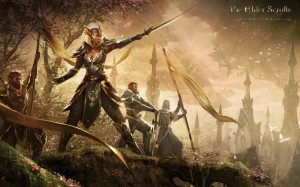 Ever since Bethesda announced the making of The Elder Scrolls Online thousands of fans have been waiting in anticipation of the release date. Just recently the developers sent a wave of beta invites to many players, and rarely anyone thought it might herald such an early release.
Today, Bethesda announced TESO will be officially released for PC platform on April 4th, 2014. It's only five months away and during that time they will surely polish the game further. In April only PC players will be able to explore Tamriel, while PS4 and Xbox One gamers will have to wait until June to join the adventures. It's not all bad news for console players though, as we can assume the additional time will enable the developers to work further on providing a good player experience.
Aside from Elder Scrolls Arena, ESO is the first game in the franchise that will enable players to explore the entire land of Tamriel, and promises the above standard single player experience Elder Scrolls fans are accustomed to. In addition to the news about launch date Bethesda and ZeniMax also released a new announcement trailer entitled War in Cyrodiil which puts this MMORPG's PvP system in the spotlight.
The massive player versus player system in Elder Scrolls Online enables hundreds of players to fight together on the same battlefield, and the in game footage showcases a castle siege as well as some potential combat skills and weapons.
Five more months. Mark your calendars!