Tag Archives:
announcement trailer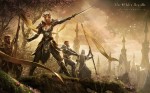 Ever since Bethesda announced the making of The Elder Scrolls Online thousands of fans have been waiting in anticipation of the release date. Just recently the developers sent a wave of beta invites to many players, and rarely anyone thought … Continue reading →
Following the announcement of The Elder Scrolls Online the game's official announcement trailer has been revealed as well. While the trailer itself doesn't show any gameplay or details about the game, it's still worth a look.