There are 9 lost treasures in Vvardenfell, zone added in ESO's Morrowind update. Vvardenfell treasure map locations are indicated on the map below: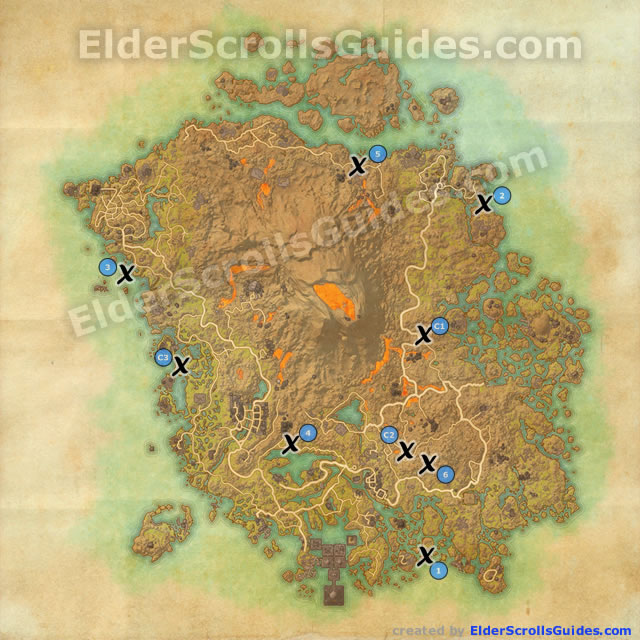 Vvardenfell CE Treasure Map I – Tree
The tree is on a small hill near a lava river.
Coordinates are 66.28 x 52.83.
Vvardenfell CE Treasure Map II – Pond
Southernmost lava pool in the area, treasure is near a nearby tree.
Exact coordinates are 63.46 x 70.03.
Vvardenfell CE Treasure Map III – Sanctuary
Northeast tower in Aleft ruins.
Coordinates are 28.36 x 57.14.
There are only three "Collector's Edition" treasure maps located in Morrowind's Vvardenfell zone, and with these locations all of them should be easy to find.
Other Vvardenfell Treasure Map coordinates:
Vvardenfell Treasure Map I: 67×88

Between two groups of mushrooms next to a rock

Vvardenfell Treasure Map II: 75×32

Next to a bonfire on one of the small islands

Vvardenfell Treasure Map III: 19×43

Small island next to sunken ship, under a boulder

Vvardenfell Treasure Map IV: 45×70

Next to a rock, north from Lake Amaya

Vvardenfell Treasure Map V: 57×26

Top of a small hill with a tree, just north of the road

Vvardenfell Treasure Map VI:  67×73

Follow the small path up the hill south of Erabenimsun Camp