There are 7 lost treasures in Eastmarch zone, 6 normal ones and 1 from Collector's Edition of the game. Eastmarch treasure map locations are indicated on the map below: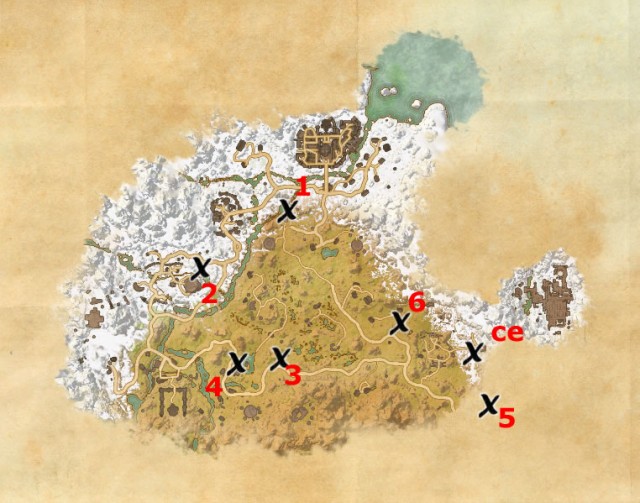 For more detailed instructions and exact map coordinates on how to find each Eastmarch treasure see below:
Treasure Map I – 45×38 – Head northwest from Kynesgrove Wayshrine, on the river bank next to a huge rock.
Treasure Map II – 32×46 – Between Cradlecrush Wayshrine and Fort Morvunskar Wayshrine.
Treasure Map III – 45×52 – Head directly south from Wittestadr Wayshrine, treasure is next to s small pond.
Treasure Map IV – 44×60 – Southwest from Wittestadr Wayshrine, across from a small camp, next to a huge rock.
Treasure Map V – 74×66 – Near Hammerhome, next to a small shelter.
Treasure Map VI – 61×54 – Head north from Logging Camp Wayshrine to Thulvald's Logging Camp, treasure is seen from the main road between a tree and huge rock.
Collector's Edition Map – 72×58 – From Jorunn's Stand Wayshrine head northeast until you reach cave entrance. Next to the entrance you will spot tent and huge trees. Look for the hidden treasure next to the further away tree.