Rivenspire is a Daggerfall Covenant zone designed for player level 24-30. Rivenspire has a total of 16 skyshards, each of which is indicated on the map below (red = below ground, blue = above ground).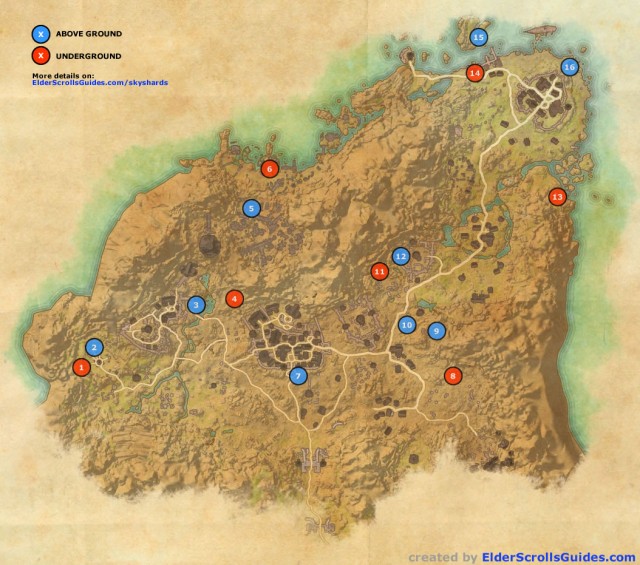 To help you locate specific skyshards in Rivenspire take a look at these short guidelines below:
Inside Flyleaf Catacombs solo dungeon, just before the final boss.
In Eyebright Feld Dolmen area.
Side of the bridge in Crestshade.
Atop a wooden platform before the last boss of Crestshade Mines solo dungeon.
Inside a cave.
Inside Erokii Ruins solo dungeon, side room near final boss.
Next to main Stornhelm gate.
Shortly after you enter Tribulation Crypt solo dungeon.
Obscured by a cave entrance.
Right side of the road when you leave Hoarfrost Downs.
Obsidian Scar public dungeon, inside a prison cell.
Up the stairs and then behind the tower.
Orc's Finger solo dungeon.
Hildune's Secret Refuge solo dungeon, by the end.
Outdoors, very easy to spot.
Top of the lighthouse.