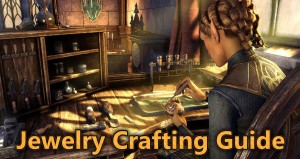 Jewelry Crafting is the latest profession added to The Elder Scrolls Online in Summerset chapter. The goal of the profession is to give players additional freedom to build characters and customize equipment choices.
Jewel crafting uses many of the same concepts as other professions in TESO. Gathering materials, researching traits, and developing the new Jewelry Crafting skill line is similar to what we are used to. However, jewel crafting also introduces new raw materials and gathering nodes and new traits.
This guide will give you a basic rundown of everything relating to Jewelry crafting profession, so if you're interested, curious or confused it should answer all your questions.
Jewelry Crafting Basics
Jewelry crafting allows players to create custom rings and necklaces. Jewelcrafting items finally enable players to craft rings and necks that are part of player-crafted sets, and introduce six new traits.