Maps below contain the locations of all skyshards in Western Skyrim and Blackreach zones. Both these zones are part of the Greymoor Chapter which includes a total of 18 skyshards.
Indicated with blue numbers are outdoor skyshards, and indicated with red are indoor ones (in delves).
Western Skyrim & Blackreach skyshards map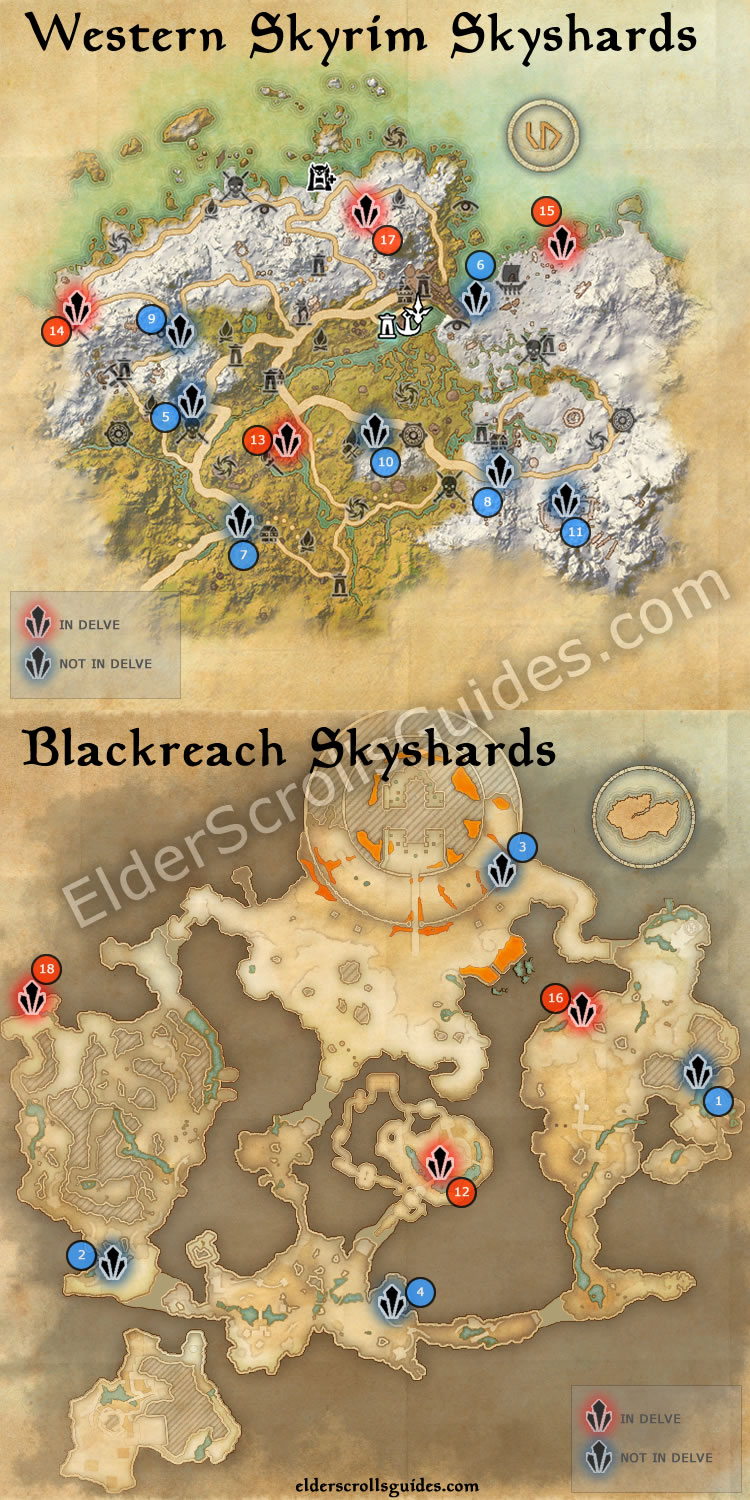 Western Skyrim contains a total of 11 skyshards, 7 of which are above ground and 4 in delves. Blackreach contains 7 skyshards, and three of those are in delves.
Below are basic instructions and coordinates to help you find these skyshards!
At the top of a waterfall in the Lightless Hollow (91.26×46.52)
Tucked in the Dwarven ruins south of Dark Moon Grotto (16.60×71.74)
Near the outer walls of Greymoor Keep (67.16×21.21)
Where a storm is brewing east of Dusktown (53.52×75.21)
At the top of the Circle of Champion's tower (26.95×55.70)
Close to Storm-Hawk's Altar near Solitude (91.21×83.21)
Near Jarl Olfwenn's Hall (31.65×70.52)
At a henge south of Morthal (67.04×65.15)
By the Dragon's Belly (24.35×44.15)
Near an altar close to Hunter's House (50.59×57.86)
Within Labyrinthian's mound (83.95×65.89)
Overlooking the crescent pool in Nchuthnkarst (49.42×66.61 on zone map; 68.33×60.30 in Nchuthkarst public dungeon)
Through the Frostvenom Spiders' nest in Chillwind Depths (36.91×61.13 in zone map; 86.44×55.03 in Chillwind Depths delve)
Near the cliffside altar in Dragonhome (11.85×43.75 on zone map; 58.66×61.24 on Dragonhome delve map)
Among the crags of the Frozen Coast (74.53×32.30 on zone map; 35.69×47.50 in Frozen Coast delve)
By the Wispmother's pond in Midnight Barrow (76.74×36.84 on zone map; 70.52×40.36 in Midnight Barrow delve)
On one of the highest precipices in the Shadowgreen (48.54×30.16 on zone map; 30.16×61.58 in Shadowgreen delve)
In a junk heap rotunda in the Scraps (08.37×36.72 on zone map; 72.61×50.49 in The Scraps delve)