Gold Coast zone contains 6 skyshards, and the map below indicates their locations. Indicated with blue numbers are outdoor skyshards, and marked with red are indoor ones (delves).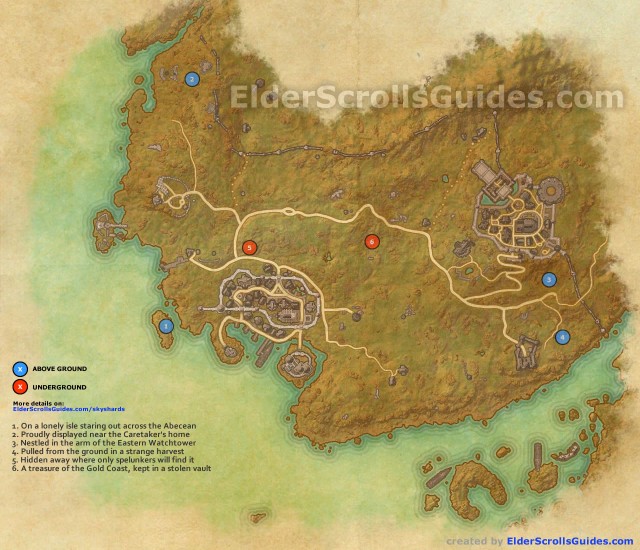 First four skyshards are found outdoors, and the last two are in delves. For more detailed instructions on finding each skyshard see below:
On a lonely isle staring out across the Abecean. From the starting point of the area (Anvil), head outside and west and cross the deep water to a small island that has the skyshard.
Proudly displayed near the Caretaker's home. Follow the path north of Anvil until the northernmost area of the map, you'll find a grave area called Knightsgrave. The skyshard is in a ledge overlooking a wide view in between Knightsgrave and crafting station "Colovian Revolt Forge Yard." 
Nestled in the arm of the Eastern Watchtower. Head south from Kavatch towards the Varen's Wall Gatehouse marker. The skyshard is in a corner in a dilapidated watchtower, next to a troll.
Pulled from the ground in a strange harvest. South and East from Skyshard 3, in a small farm to the east of Enclave of Hourglass. The skyshard is in the harvest grounds protected by two Thunderbugs.
Hidden away where only spelunkers will find it. Hrota Cave: On a watery ledge in the middle-right corner of the dungeon.
A treasure of the Gold Coast, kept in a stolen vault. Garlas Agea: On the first room to the right of the entrance after Razum-Dar.