There are 7 lost treasures in Stormhaven zone, 6 normal ones and 1 from Collector's Edition of the game. Stormhaven treasure map locations are indicated on the map below: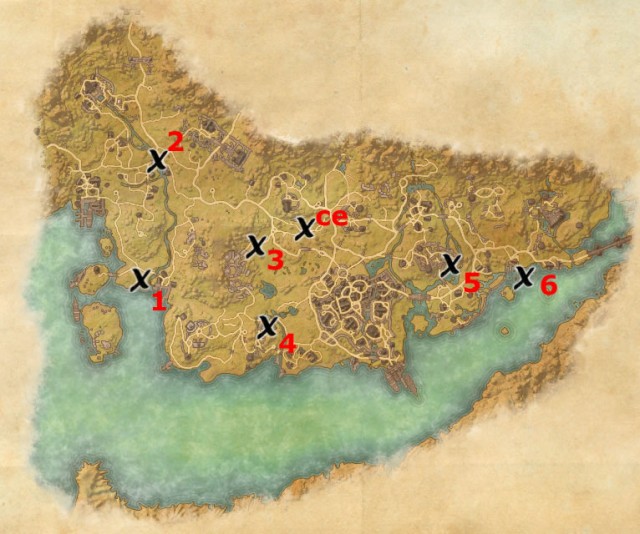 For more detailed instructions and exact map coordinates on how to find each Stormhaven treasure see below:
Treasure Map I – 23×53 – Southwest from Bonesnap Ruins Wayshrine, near the Tower Stone.
Treasure Map II – 25×35 – Northeast from Koeglin Village Wayshrine, under the large bridge.
Treasure Map III – 40×48 – Between Hammerdeath Bungalow and the Hammerdeath Workshop, to the left of the road, behind a tree (thanks Amensier!)
Treasure Map IV – 42×60 – Follow the main road north from Soulshriven Wayshrine, turn right at the crossroads, behind two stone statues near the stone bridge.
Treasure Map V – 69×51 – Follow the main road from Dro'dara Plantation Wayshrine to Aphren's Hold, cross the bridge, turn right to the river, next to a huge tree with green leaves.
Treasure Map VI – 80×52 – Southwest from Weeping Giant Wayshrine, on a small island.
Collector's Edition Map – 48×45 – South from Pariah Abbey Wayshrine in the Stormchewer Goblin Camp under a huge tree.