Map below contains the locations of all skyshards in Galen & Y'ffelon Islands. Both these zones are part of the Firesong DLC which includes a total of six new skyshards.
Blue icons indicate outdoor skyshards, and red show skyshards found in delves and public dungeons.
Galen & Y'ffelon skyshards map: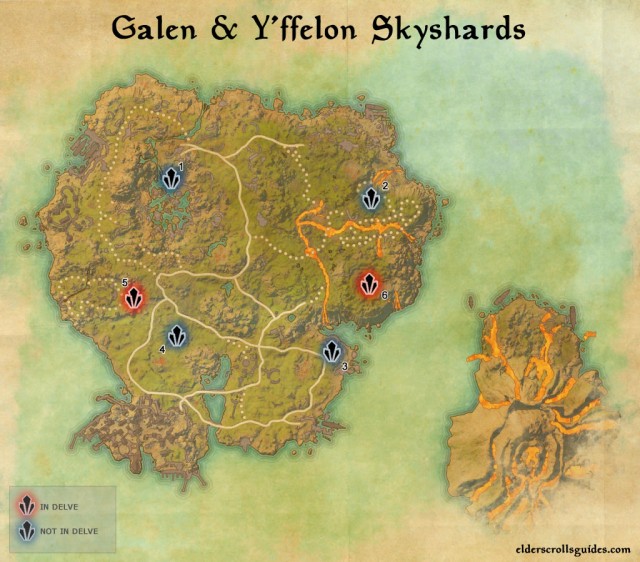 Galen & Y'ffelon Islands contain a total of 6 skyshards. First 4 are found outdoors scattered throughout the island. Skyshards 5 and 6 are found in delves.
Below are basic instructions and coordinates to help you find these skyshards!
Through a lofty tunnel in Glimmertarn, on a balcony with a view. – 26.05×27.28 – on a balcony at end of a path south of Glimmertarn wayshrine
Found near a curious bridge made from a large tree near Ivyhame. – 57.28×32.22 – along the path south of Llanshara
Between two boulders in the hills northwest of Tuinh. – 52.22×54.81 – between two rocks northwest of Tuinh and west of Tuinh settlement
Southeast of Fauns' Thicket on a bluff, surrounded by rocks. – 28.89×53.33 – surrounded by statues on top of a hill
Inside Fauns' Thicket, on ruined stairs in the southern cliffs. – 21.60×47.16 – guarded by Spriggans on south plateau in Fauns Thicket delve
Overlooking the magma pools near the northern tip of Embervine. – 55.68×45.06 – take the north exist to reach Jungle Overlook once inside Inner Caverns of Embervine delve