There are 6 lost treasures in Craglorn zone, four of which are located in Lower and two in Upper. Craglorn treasure map locations are indicated on the map below: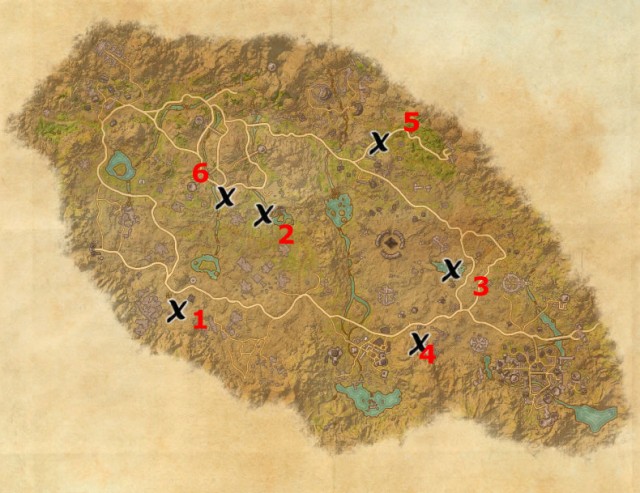 For more detailed instructions and exact map coordinates on how to find each Craglorn treasure see below:
Treasure Map I – 21×56 – Visit Taborra's Camp and find a large arch.
Treasure Map II – 38×38 – From Rkhardahrk, head towards Anka-Ra and find the spot.
Treasure Map III – 70×49 – From Inazzur's Hold Wayshrine head southwest towards Lake of Teeth.
Treasure Map IV – 64×61 – From Belkarth Wayshrine head east towards Haddock's Market entrance.
Treasure Map V – 59×38 – Northeast from Valley of Scars Wayshrine. Take the road leading to The Howling Sepulchers Public Dungeon, right above the zone miniboss Kharg of the Stone.
Treasure Map VI – 0×0 – South of Skyreach Wayshrine behind a big stone house.
Marked locations should be accurate, but in case you know precise coordinates or quick info on last two treasures in Upper Craglorn feel free to let us know in the comments below. Thanks!