Map below contains the locations of all skyshards in High Isle and Amenos zones. Both these zones are part of the High Isles Chapter which includes a total of 18 skyshards.
Blue icons indicate outdoor skyshards, and red show skyshards found in delves and public dungeons.
High Isle & Amenos skyshards map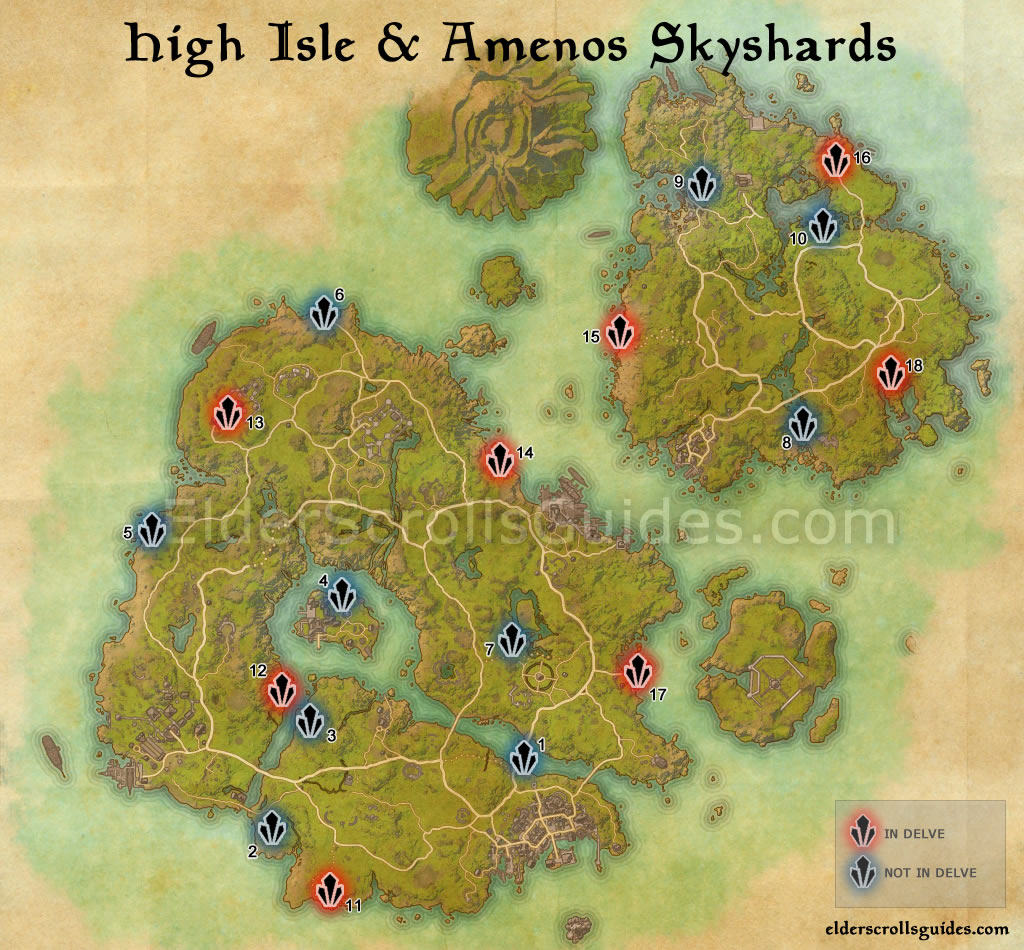 High Isles chapter contains a total of 18 skyshards. First 10 are found outdoors scattered throughout the High Isle and Amenos. Skyshards 11-16 are found in delves, while last two are in public dungeons.
Below are basic instructions to help you find these skyshards!
High above the river across from the Firepot.
Under the middle bridge spanning Loch Abhain.
By a beach near the bridge on High Isle's southern coast.
Hidden in the rocks above Jheury's Cove on High Isle.
Just west of a pointed rock on High Isle's northernmost beach.
In the shadow of All Flags Castle's north wall.
Overlooking the volcanic vent north of Tor Draioch.
In the heart of the river canyon east of Amenos Station.
On the shore of the Flooded Coast below Snake's Eye View.
By a bay full of wrecked ships along Skulltooth Coast.
Follow a climbing path on the southern side of Ghost Haven Bay.
In the hedge maze of the Spire of the Crimson Coin.
On a ledge above a pool in the back of Breakwater Cave.
Guarded by the dead in Death's Valor Keep.
At one end of a natural bridge in the heart of The Firepot.
At the end of a winding path high above Shipwreck Shoals.
By a blue tree within the caverns of Coral Cliffs.
Hidden high among the rocky ridges of Whalefall.