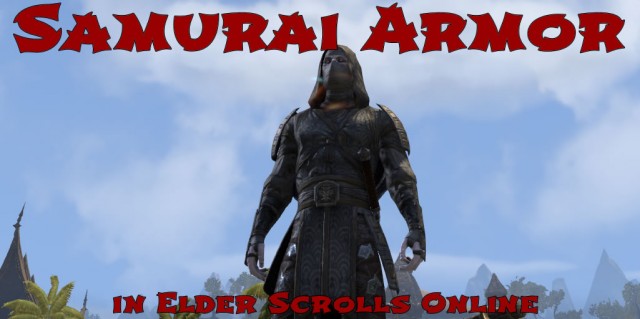 If you played Skyrim before, no doubt you encountered samurai-styled armor before (called Blades armor). Elder Scrolls Online also features Akaviri styled armor and weapons, which are greatly inspired by feudal Japan and samurai armor.
Since I've been asked a lot of times about it when prancing around through Riften, I decided to make a few screenshots of the Pact/Covenant/Dominion item sets you can get from PvP (Cyrodiil). There are three different armor types of course: Light, Heavy, and Medium, each with their own unique appearance.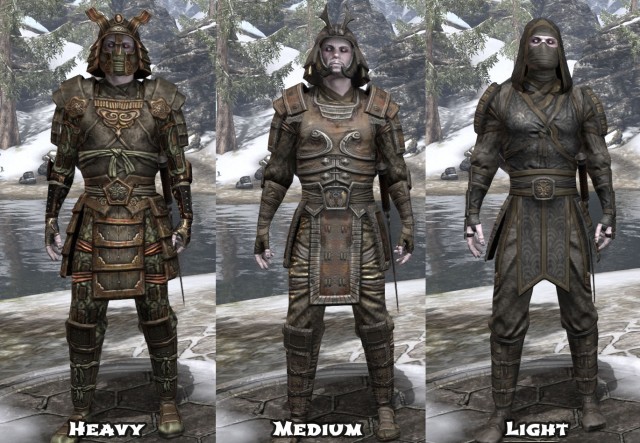 Light version isn't particularly samurai-like, in fact it looks more like a ninja but I still quite like it since it at least covers my ugly mug. Heavy armor is the most recognizable, and paired with a katana sword it's definitely a must-have for anyone who enjoys the theme as much as I do. The only negative thing about these armors is the fact Light pants aren't a hakama, something which I'd definitely enjoy wearing.
Where to get samurai armor?
Getting samurai armor in ESO isn't overly difficult if you're only after the aesthetic look. Simply participating in PvP and killing other players and capturing map objectives will yield Alliance Points. After a relatively small amount of AP you will get loot containers which often contain parts of these armors.
Getting the whole item set can take awhile, but you can also purchase items from other players; prices typically range from 1,000 to 10,000 gold a piece, with weapons being the most expensive. Prices can vary depending on level requirement and item quality. You can have your own samurai set for as little as 5,000g if you buy smart at guild stores. As a sidenote, all samurai armor requires Veteran Rank 1 or higher to be worn.
Lastly, you can purchase Epic quality PvP gear from your faction's vendors located at the starting gates in Cyrodiil. Each piece will set you back for over 600,000 Alliance Points though which can take quite awhile to accumulate (typically several days of PvP combat just for one piece, excluding loot containers). Buying these items from guild stores is generally way more affordable, but if you often participate in PvP you may have a different perspective.
---
While I'm not a big fan of PvP in ESO, I am definitely a huge fan of the samurai and being able to wear their amazing armour is a huge motivation for me. I wear either the heavy or light Pact's armor most of the time, despite it not having the best PvE bonuses. Since I can't wear it in real life, I might as well make the most out of it in Elder Scrolls! And since I'm constantly being asked about my armor style by players in game, I'm sure I'm not the only one who likes its looks.
Crafting Akaviri items
Akaviri armor style motif has been added to ESO in Patch 2.2 (Orsinium DLC). You can purchase the motif books from Siege Merchants in Cyrodiil for the following prices (currency is AP – Alliance Points):
Crafting Motifs 18, Chapter 1: Akaviri Axes – 250,000
Crafting Motifs 18, Chapter 2: Akaviri Belts – 100,000
Crafting Motifs 18, Chapter 3: Akaviri Boots – 100,000
Crafting Motifs 18, Chapter 4: Akaviri Bows – 250,000
Crafting Motifs 18, Chapter 5: Akaviri Chests – 500,000
Crafting Motifs 18, Chapter 6: Akaviri Daggers – 100,000
Crafting Motifs 18, Chapter 7: Akaviri Gloves – 250,000
Crafting Motifs 18, Chapter 8: Akaviri Helmets – 500,000
Crafting Motifs 18, Chapter 9: Akaviri Legs – 250,000
Crafting Motifs 18, Chapter 10: Akaviri Maces – 250,000
Crafting Motifs 18, Chapter 11: Akaviri Shields – 500,000
Crafting Motifs 18, Chapter 12: Akaviri Shoulders – 250,000
Crafting Motifs 18, Chapter 13: Akaviri Staves – 500,000
Crafting Motifs 18, Chapter 14: Akaviri Swords – 500,000
The total price for all motif books is 4,300,000 AP. Good news is you can do without many item slots. For starters, don't purchase any weapons since they look nothing like katana or samurai weapons. And to get the very basic samurai armor looks, you can just purchase helmet, shoulders and chest motifs (1.25 million AP), and then work your way to getting boots, gloves and legs (600k AP) later on.
These six motif chapters would cost 1.85 million AP which is still a ridiculous amount, but it will make the grind less unreasonable. If you enjoy PvP then you have nothing to worry about.
Crafting in Akaviri style also requires Goldscale reagent, which is made by refining ten Ancient Scale. Each Ancient Scale costs 5000 Alliance Points, so every item you craft will cost 50,000 AP.
Even if you're ready to open up your wallet, you'll be disappointed to find there's no Akaviri motif in the Crown Store, so it's currently only purchasable by participating in PvP. Huge downside for anyone like me who dislikes PvP activities, especially ESO's large scale Cyrodiil battles.
Screenshots
You can find a few screenshots of my Templar (and some NPCs) showing off through Tamriel in samurai armor:
If you want me to include any of your own screenshots be sure to send them at contact @ elderscrollsguides.com!