There are 7 lost treasures in Deshaan zone, 6 normal ones and 1 from Collector's Edition of the game. Deshaan treasure map locations are indicated on the map below: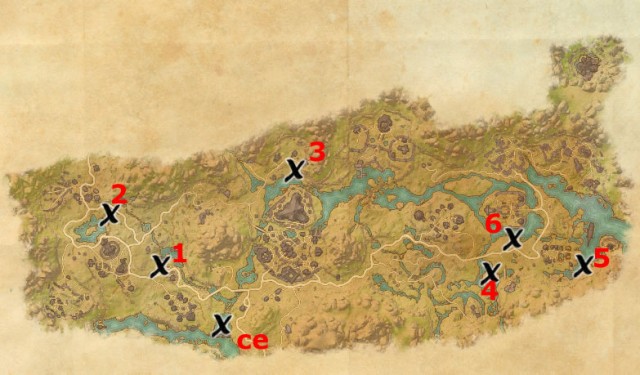 For more detailed instructions and exact map coordinates on how to find each Deshaan treasure see below:
Treasure Map I – 26×55 – West from Muth Gnarr Hills Wayshrine
Treasure Map II – 18×48 – From Obsidian Gorge Wayshrine head west towards the lake Hlaalu, turn left before the bridge, it is between two big trees.
Treasure Map III – 46×41 – East from Mzithumz Wayshrine.
Treasure Map IV – 76×57 – West from Muth Gnarr Hills Wayshrine.
Treasure Map V – 90×55 – West of Smuggler's Slip.
Treasure Map VI – 80×51 – On a small island.
Collector's Edition Map – 46×41 – Next to a tree in a shallow lake just outside the city.