There are 7 lost treasures in Reaper's March zone, 6 normal ones and 1 from Collector's Edition of the game. Reaper's March treasure map locations are indicated on the map below: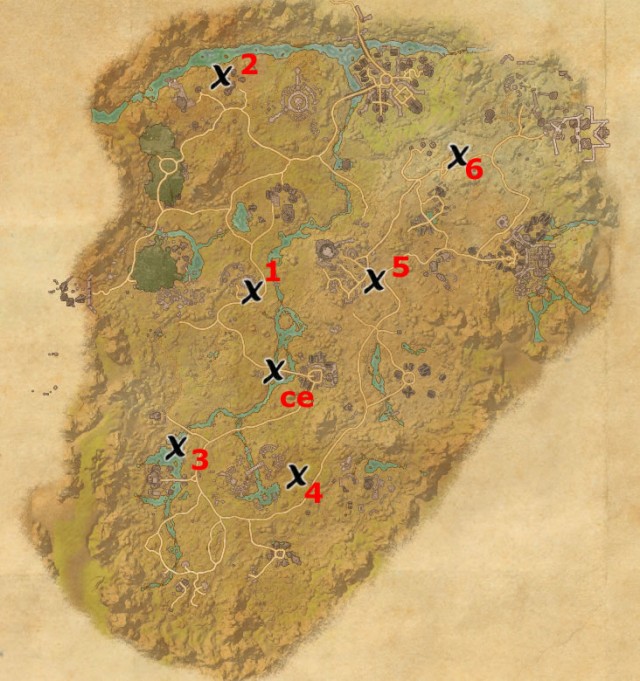 For more detailed instructions and exact map coordinates on how to find each Reaper's March treasure see below:
Treasure Map I – 38×43 – Follow the main road towards Thibaut's Cairn. Once you reach it, look for the hidden treasure next to the wall.
Treasure Map II – 33×13 – From Fort Grimwatch Wayshrine head north towards Old Town Cavern. Dirt mound is hidden between two huge trees among many wasps.
Treasure Map III – 27×65 – From Moonmount Wayshrine head north towards Jodewood Dolmen. Next to the waterfall you will see a small tent. A few steps before the tent, you will find a digging spot next to a tree.
Treasure Map IV – 45×69 – Use Willowgrove Wayshrine, and head north. Dirt mound is well hidden near the tree, guarded by two tigers.
Treasure Map V – 55×42 – Outside Thizzrini Arena, near the broken wooden-beam gate. On a small hillock among scorpions, you will find hidden treasure between rocks.
Treasure Map VI – 67×24 – From Fort Sphinxmoth Wayshrine travel southwest towards Ushmal's Rest. Once you reach old wooden dock, turn right and look for dirt mound near rocks.
Collector's Edition Map – 41×54 – West from Rawl'kha Wayshrine, next to the second bridge on the small peninsula.