Below is a map of Deshaan zone with marked locations of all 16 skyshards. Deshann is a level 17-23 area for Ebonheart Pact players.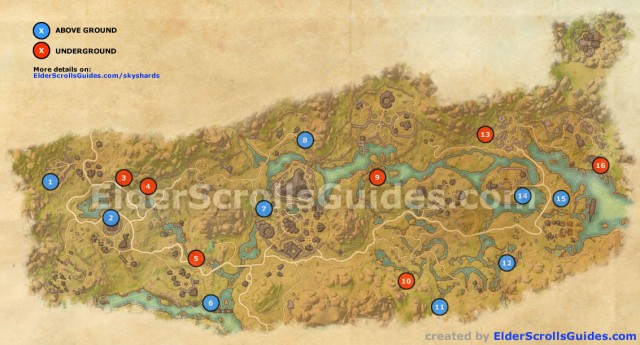 We have all 16 skyshards in Deshaan listed, but if you still have issues locating them check out these short notes below:
Bottom of the cliff surrounded by rocks.
Behind a building.
Inside Forgotten Crypts public dungeon, hard to miss.
Second floor inside Lady Llarel's Shelter public dungeon.
Last large room of Lower Bthanual public dungeon.
Outside next to a large tree.
Next to two waterfalls.
Next to building entrance by some stones.
On a wooden platform inside Triple Circle Mine solo dungeon.
Bottom of the waterfall inside Taleon's Crag public dungeon.
Small island in the river, easily seen once you're near.
Behind the entrance to Darkshade Caverns dungeon.
Inside The Corpe Garden public dungeon.
Outside, easily spotted.
Under a large mushroom on a hill.
Inside Knife Ear Grotto solo dungeon, near the exit.
If you have any questions feel free to ask in the comments section below.