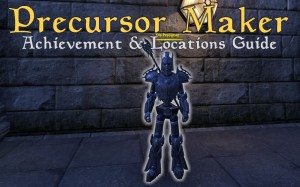 The Precursor is a target dummy available by completing tasks in Clockwork City. The tasks include doing a few quests and then collecting Precursor's parts in several awfully named dwemer-themed delves and quest zones in the game.
Quest starts from a bulletin board in the north part of Brass Fortress in clockwork City. Quest is unsurprisingly called "The Precursor". It requires you to go talk to an NPC named Associate Zanon.
Associate Zanon can be found in his workshop in Reactor District, a western part of Brass Fortress. Location is marked on the map below:
After a quick task to grab an Integral of Memory, you need to collect 14 different Precursor body parts. These are found in the following zones:
Once you have collected all 14 parts bring them to Associate Zanon to continue. After a quick mundane task you will be a proud owner of a brand new Precursor target dummy.
Maps below display the locations of Precursor Construct parts. Exact location is indicated by a cog wheel. Note that most parts are found in delves, but some are in regular quest areas.