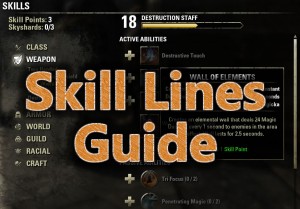 We briefly touched on the topic of skill lines in our article about character progression and class guides, but it's time to explain the system in more detail. Skill lines are essentially skill trees as you'd expect to see in an RPG game: as your character progresses through the game you gain skill points which are allocated to particular skills to be able to use them or improve their effectiveness.
Your character has access to many different skill lines. The 4 basic ones are defined by your choice of class and race: every class has three distinct skill lines that can't be otherwise obtained, and every race has its own set of racial bonuses. Every other skill line can be unlocked by all classes, either by joining an NPC guild or by exploring the world. Below we'll take a brief look into various skill lines and explain where you get them!
Getting Skill Points
Every time your character gains a level you will get 1 skill point to spend on a spell in one of your available skill lines. Additionally you're introduced to Skyshards very early on in The Elder Scrolls Online: for every 3 skyshards you find you will gain 1 additional skill point. There are dozens of them scattered throughout Tamriel, giving you yet another reason to go out and explore the world.
Active and Passive Skills
In most skill lines there's several active and several passive skills available. Active ones are spells and abilities you can drag to your action bar and use in combat, while passive skills simply give you a bonus and can't actively be used/activated. As an example, Medium Armor skill line has a passive which increases your stamina regeneration by 2% for every piece of medium armor you have equipped. You can only have 5 active spells on your action bar at any given time (10 with weapon swap), and passive ones don't have to be allocated to your hotbar.
Ultimate Skills
Typically around Rank 12 in a particular skill line you can spend a skill point into an ultimate ability. These are very strong spells but can't be used as often as you'd like since they require Finesse as resource (more about Finesse in our combat guide). Not all skill lines have Ultimate abilities though, but all of them are immensely helpful in various situations. You can only have one Ultimate on your hotkey bar at any given time.
Morphing Spells
Simply by using a particular spell or skill you gain experience with it and are eventually able to morph them: morphing spells basically adds another effect to the ability, and requires a skill point. Abilities have 2 different morphs and you can only choose one of them, so choose carefully!
Have any other questions about skills or skill lines? Read our article about character progression, or ask us in the comments section!
If you want to read more detailed guides on how to build the best characters check out this strategy guide. It will provide you great insight into which skill lines are best for particular playstyles and help you dominate in both PvE and PvP!