There are 6 lost treasures in Wrothgar zone. Wrothgar treasure map locations are indicated on the map below: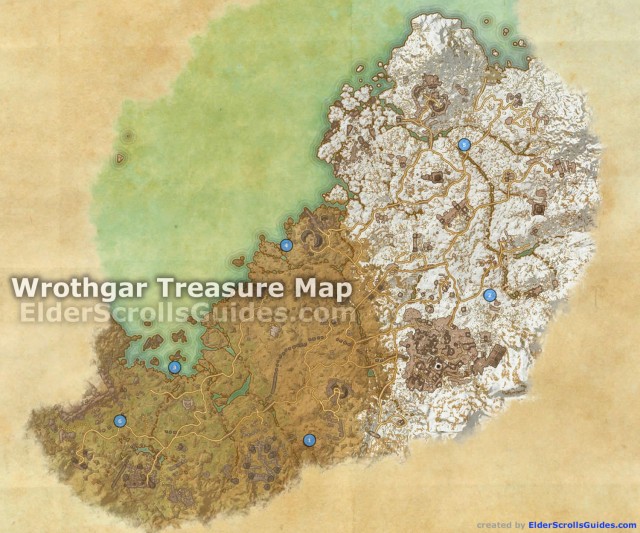 You can click the map to view a larger resolution.
For more detailed instructions and exact map coordinates on how to find each Wrothgar (Orsinium) treasure see below:
Orsinium Treasure Map I – 0×0 – SW of Graystone Quarry, near a waterfall. Southeast of Frostbeak Ridge Wayshrine.
Orsinium Treasure Map II – 0×0 – Northeast of Orsinium, just north of King-Chief's Throne boss.
Orsinium Treasure Map III – 0×0 – On a small island just north of Shipwreck Cove (northwest of Great Bay Wayshrine).
Orsinium Treasure Map IV – 44.5×48.57 – Head directly north of the Morkul Plain Wayshrine to the coast.
Orsinium Treasure Map V – 73.12×31.86 – Northwest of Two Rivers Wayshrine, across the road.
Orsinium Treasure Map VI – 0×0 – Northeast of Siege Road Wayshrine.
If you know exact map coordinates or have more detailed info about Wrothgar treasure maps please help us in the comments below. Thank you!