There's a total of 7 treasures in Alik'r Desert zone, 6 normal ones and 1 from Collector's Edition of the game. Alik'r Desert treasure map locations are indicated on the map below: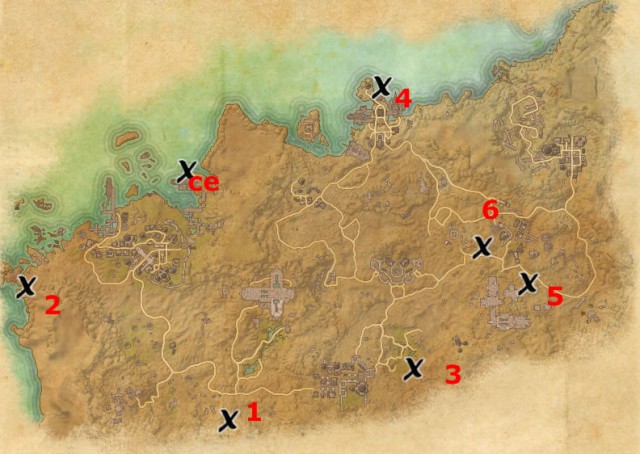 For more detailed instructions and exact coordinates on how to find each treasure see below:
1 – Southwest part of Alik'r Desert, south of Divad's Chagrin Mine (36×73)
2 – From Sentinel Wayshrine head west. Digging spot is between Ancestor's Landing ( Ruins POI, to the east) and Na-Totambu's Landing ( Area of Interest POI, to the west). Look in a small palm oasis (5×53)
3 – Southeastern Alik'r Desert, east of Bergama City near Aldunz (64×64)
4 – From northern Tava's Blessing, find a lighthouse and look east in an island (60×23)
5 – Southeastern Alik'r Desert, north east area of HoonDing's Watch (83×53)
6 – On the outside of the Kozanet Tower (75×46)
CE – Northeastern part of Sentinel. Near Wayfarer's Wharf. On northern part of a small peninsula, between two palm trees (30×35)
Numbers above correspond to treasure map numbers, i.e. 4 = Treasure Map IV. CE = Collector's Edition map.