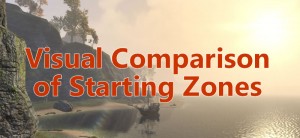 With the inevitable release and all the bad press regarding ESO's starting experience, I decided to grab a few screenshots of the first few zones for every faction to give you a visual sample of how these locations look. First impressions are very important, and many players agree that simply starting in a different zone can really make an impact on your first few hours of the game.
With such emphasis on the starting experience, it's time we take a visual look into the zones and areas of each faction. You'll find dozens of screenshots below, hopefully making your starting experiences more enjoyable.
All players first start in a tutorial area Coldharbour, an Oblivion plane of Molag'Bal. Without going into lore or spoiling things for you, let's just say you'll be out of this area in far less than an hour, while experienced players can blast through it in 15 minutes. After Coldharbour you'll be moving on to a starting area depending on your faction choice.